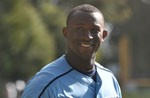 Bay Area Warriors alumni have got off to successful starts in their 2011 collegiate seasons. The Warriors currently have players on the following D1 teams, Cal-Berkeley, UC Davis, Navy, San Jose St, USF.  In addition to numerous players at the D2 and Junior college ranks.
•O'Koyea Dickson has gotten off to a blistering start for the Sonoma State Seawolves leading the CCAA in RBI's this year
•DJ Slaton started off his San Jose St career in fine fashion striking out 8 hitters in his season debut and now has 12 strikeouts in 5.2 IP
•Mitch Delfino (Cal Berkeley) hit a grand slam in the season opener and is currently hitting .417
•Dylan Wheeler (Navy) is hitting .375 while starting at shortstop for his team
Continue to check back for Warrior alumni updates!