Three warrior alumni play in NCAA tournament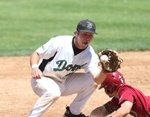 Bay Area Warrior alum and Cal's starting third baseman, Mitch Delfino makes his way to the Houston Regional.  Hitting .280, Delfino is tied for the team lead in homeruns while playing stallworth defense. No. 3 seed Cal (31-20) faces No. 2 Baylor (29-26) Friday, June 3 to start off the double elimination tournament.  The Bears, who feature 2011 Pac-10 Player of the Year Tony Renda, have had some big wins this year, including defeating Rice in 15 innings earlier in the season. No.1 Rice (41-19) has expected first round draft pick Anthony Rendon. Cal baseball was on the brink of elimination this year, but with overwhelming support from Cal baseball alumni they have been rejuvenated making them extremely determined to take on the regional.
Bay Area alum and USF's starting Sophomore second baseman, Jason Mahood, was an honorable mention selection in the WCC.  No. 4 seed USF (31-23) plays No. 1 seed UCLA (33-21) in the Los Angeles Regional on Friday at 6:00 pm.  Mahood is hitting .249 and is second on the team for stolen bases and homeruns.  USF has already played UCLA this year in a three game series.  Facing UCLA's outstanding Gerrit Cole and Trevor Bauer is challenging, but the Dons are prepared and excited to get to work.  The Dons are in a regional where they have already played two of the three participating teams (UCLA and Fresno State).
Bay Area Alum, Dylan Wheeler heads to the Charlottesville Regional where No. 4 seed Navy (33-23-1) will play No.1 seed Virginia (49-9).  Wheeler, Navy's starting shortstop, helped his team make an appearance NCAA tournament for the first time since 2002.  After securing first place in the Patriot League, Navy faces the Cavaliers, who are playing in their eighth consecutive NCAA tournament.