The Fall Ball Season is off to a roaring start! The California Warriors closed out the September portion of their schedule against the Head First Gamers in Sunday, splitting their double header with a hard-fought Game One, and an offensive explosion in Game Two.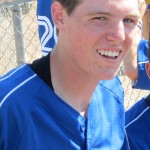 The standout of the day was Danny Madera (pictured), who hit a home run in both games; one to left and one to right.
The California Warriors will start the October portion of the schedule this Sunday at Redwood High School against the Head First Gamers.
We wish them all the best in their upcoming games, and look forward to their continued growth as a team!