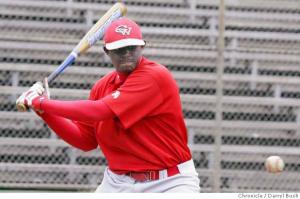 Congratulations to renowned California Warrior alumni, O'Koyea Dickson. Baseball America recently named O'Koyea as the Low Class A First Baseman of the year. After excelling on the Dodgers' short season minor league team last year, O'Koyea has proved himself a terrific rookie ball player. In his first full season in the Midwest League, O'Koyea was the leader amongst all first basemen and fourth overall with 17 homeruns. He was named the MVP of the Midwest League All Star Game.
O'Koyea was a part of the First Base Foundation from 2007-2009. We were instrumental in the furthering of his education and the development of his baseball aptitude. To see more about the importance of the FBF had in the life of O'Koyea watch our youtube video here.
O'Koyea's success throughout his season proves that he is one of the Dodgers' rising prospects within their minor league system. With the regular season coming to a close, O'Koyea heads off to instructional ball to continue honing his skills.