Warriors Blue Team Schedule 2013
Game Expectations: All players are to be at the field one hour before each game unless told by coaches otherwise. We want to make sure that we have ample time to warmup.
What You Need: All players are responsible for their own grey pants, navy blue socks, and navy blue belt.
The California Warriors Blue team consists of student athletes who are varsity level high school players. Emphasis will be on fine-tuning fundamentals of the game, as well as leadership and good sportsmanship.
Training will begin on May 26.
Games will begin on June 8 and end on August 2. The California Warriors Blue will play 40-45 games over the summer.
In addition to competing in the Headfirst Gamers "Bercovich League" we will be playing in these tournaments:
Zoots Tournament June 14-17 Bay Area
6/14 vs Zoots Baseball @ USF, 10:00 AM start, 9:15 AM arrival
6/14 vs Hard Tke Red Sox @ USF, 4:00 PM start, 3:15 PM arrival
6/15 vs Danville Hoots @ College Park High School, 10:00 AM start, 9:15 AM arrival
6/15 vs Norcal @ College Park High School, 1:00 PM start
6/16 TBA
6/17 TBA
Reno Muckdogs Tournament June 27-30 Reno, NV
Headfirst Gamers Tournament July 11-14 Bay Area
West Coast Summer Series in San Diego, CA – July 26 – August 1
Coaches:

Max Luckhurst (Email)
Max Luckhurst is the head coach of Campolindo High School.  Coach Luckhurst has built an East Bay power house at Campo and brings his outstanding coaching skills to our organization.  He was awarded East Bay Baseball Coach of the Year for 2012.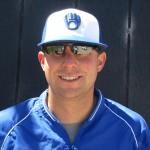 Bryan Faulds (Email)
Bryan Faulds is currently the pitching coach at College of San Mateo. Faulds pitched for College of San Mateo in 2005-06 where he won two Coast Conference Championships. He continued his playing career at Division 1 Western Illinois University where he was the closer for two seasons.