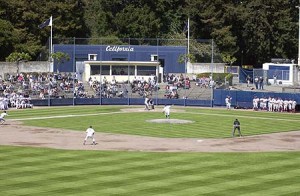 The First Base Foundation is thrilled to announce our partnership with Cal Berkeley Athletics. We feel privileged have the opportunity to call Evans Diamond at UC Berkeley our Home Field for the 2013 Summer Season.
Evans Diamond has been the home of the California Golden Bears since 1933, and was named after legendary Cal baseball coach Clint Evans, who served as the Bears' head coach from 1930-54. The seating capacity is 2,500. Numerous Warriors Alumni, including Founder Noah Jackson, played college baseball here.
The California Warriors Home Opener will be at 1pm on June 8th against the Seals Baseball Club. This will also be the California Warriors Season Opener in the Far West League. The Warriors will be hosting weekend series on June 22nd, June 29th, July 6th, July 13th, and finishing up the season on July 27th. We will be hosting Fan Appreciation Day on July 28th.
California Warriors Season Ticket information will be available soon!