California Warriors Blue
Player Form|Player Payments|Scholarship Application
Roster spots by invitation only.
Team Info
The California Warriors Blue team is an elite travel ball team comprised of student athletes from the high school graduating classes of  2017 and 2018. Warriors Blue will play at the highest level of 18U/19u competition this summer. Our goal is to showcase student athletes' skills in front of college coaches and professional scouts.
The cost to play on the California Warriors Blue Team is $1600. You can pay in three installments or all at once – your non-refundable deposit (due on March 1) of $600 secures your place on the team, and two additional payments of $500 are due on April 1 and May 15. Visit our Player Payments Page to make payments. Your player payment covers jersey, hat, tournament fees, shirt, and shorts. Players will be responsible for their transportation/hotel for tournaments. Along with your deposit, you must submit your Player Info & Medical Release Form.
Blue Team practices will begin on June 4th. Although we will have some games at University of Pacific practices will be in Marin. These are the planned showcase tournaments that have been confirmed so far:
The California Warriors Blue Team roster will be limited to 19 players.
8 Pitchers
2 Catchers
5 Infielders
4 Outfielders
Coaches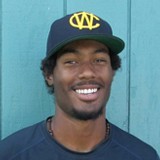 Cameron Merriwether joined California Warriors in 2013, playing two seasons on the Warriors Collegiate team before becoming a part of the California Warriors coaching staff in 2015. Following a stint playing for Diablo Valley College, he transferred to D-II Sonoma State, where he played infield for the Seawolves.