For a week in mid-June, 17u Elite took part in the USA Baseball 17 Team Championships in Phoenix, Arizona. Playing in temperatures up to 120 degrees, the team put together a solid tournament playing many close games. Known as one of the best high school summer tournaments in the country, the 17u Team Championships did not disappoint as the level of play was very high, and the California Warriors were up to the challenge.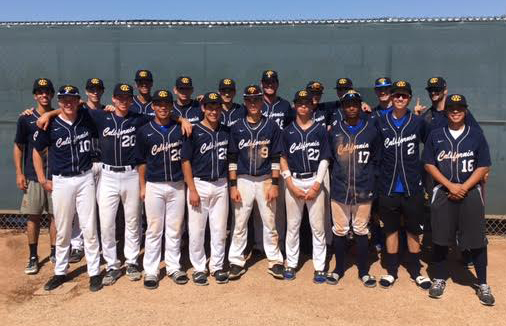 In pool play, 17u Elite saw themselves lose two run one games and another close game as their bats were not awake yet. Strong pitching and defense was displayed, but averaging under 2 runs a game was not a recipe for victory. Bracket play saw the bats wake up as 17u Elite captured their first win in their 4 th game beating OC Premier 4-1. Starting pitcher Daniel Colwell threw a complete game only giving up one run, while striking out 6 and allowing 2 hits. Offense came from catcher Zac D'Esposito who had 3 hits including a double off the fence. Dan Goodman and Chris Giles added RBI's as well.
Game 5 saw another California Warriors victory as 17u Elite was able to wake up their bats beating the Saddleback Cowboys 10-5. Strong innings on the mound came from Isaac Sloan and James Shoch, but the bats were the story of the day. Multi hit days from Teddy Hoxie, Gremelt Balladares and Sawyer Whitney provided plenty of offense. The team also overcame an early deficit by scoring 8 runs in the 5 th inning and never looking back.
Game 6 was another offensive battle with 17u Elite ultimately losing a back and forth game against Team California 9-6. Marty Cole threw 4 solid innings on the mound to start and Gremelt Balladares closed the game with 2 scoreless innings of relief. The offense was paced by Chris Giles' 3 hits and Matthew Calhoun also added 2 hits and 2 RBI's.
There were some strong performances throughout the tournament for 17u Elite and some of the highlights were:
Anthony Pomilia- 6 hits and .462 AVG
Tyrell Cabrigas- 7 hits and .500 AVG with 4 SB's
Christopher Giles- 6 hits and .375 AVG with 7 SB's