Posted By
admin
California Warriors Alumni Thriving at College of Marin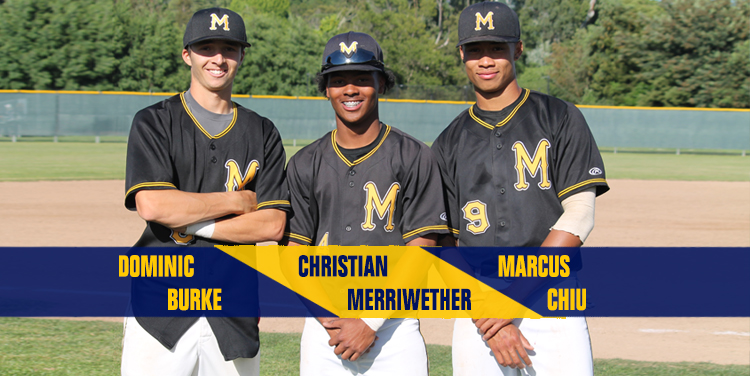 This past weekend, the College of Marin Mariners began postseason play with a three game series against Fresno City College in the regional round of the California state playoffs. The Mariners earned a series sweep with a 10-4 win in game one and a 6-3 win in game two. Spread across the field for the Mariners were many California Warriors Alumni, many of whom had a strong impact on the series. The Warriors alumni playing for College of Marin are:
Marcus Chiu – Starting 2B
Dominic Burke – Starting 3B
Christian Merriwether – Starting CF
Chase Gardner – Starting Pitcher
Brett Bowyer – Relief Pitcher
Bryan Jakemic – Starting DH / Relief Pitcher
Nick Heimbroadt – Starting 1B
Adam Hussain – Starting LF
Beau Gardner – Pitching Coach (former California Warriors player & coach)
After earning Bay Valley Conference Pitcher of the Year honors, Chase Gardner started on the mound for game one of the series. Gardner gave the Mariners a quality start, going 5 innings and giving up 3 runs while striking out 4. Offensively, the Mariners were able to open the game up in the bottom of the 6th inning behind an Adam Hussain 2-RBI double to the fence that gave the Mariners a 6-3 lead they would never give up. Hussain finished the game 2-2 with 2 RBI's, a 2B, and 2 BB.
Game two resulted in a comfortable 6-3 win for the Mariners with Burke, Hussain, and Heimbrodt all registering hits offensively and closer Brett Bowyer throwing the ninth inning for the Mariners. Bay Valley Conference MVP Marcus Chiu had a great series, going 2-5 with 5 BB and 7 runs scored. Hussain also turned in a solid series going 4-5 with 4 BB, 3 runs, 2 RBI's and a 2B. Christian Merriwether and Dominic Burke both played great defensively saving runs at both Center Field and 3rd Base respectively.
The Mariners now move onto a best of 3 Super Regional this weekend at Delta College in Stockton, CA.