Cal has incredible win over Baylor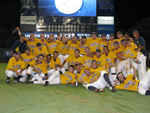 It was the most dramatic win I have ever seen.  In the bottom of the ninth with two outs, Cal's sophomore first baseman Devon Rodriguez got a base hit on a 1-2 pitch, scoring two runs to win the game!  After shutting out Baylor the night before, the expectations for Cal were extremely high, everyone knew they should and could win this regional.
Cal had a 1-0 lead in the first inning and it was looking like nothing could stop them, then things unraveled quickly.  Heading into the bottom of the sixth inning, Baylor was ahead 7-1, but the Golden Bears cut the lead to 7-3 with two runs in the 6th. Then in the 8th Rodriguez's two run homer cut the score to 7-5.  Baylor padded its 7-5 lead with a run in the top of the ninth.  Cal needed a miracle to win this game.  Starting the bottom of the ninth the score was 8-5.  Cal opened with a base hit, which sparked their incredible comeback.  Freshman Michael Theofanopoulos drove in a run with a ground out for Cal and Tony Renda, Pac-10 Player of the Year cut it to 8-7 with an RBI single. Rodriguez was up with 2 outs, and he needed a base hit!  He could not have been more clutch.  Rodriguez singled in two runs to cap a four run rally in the bottom of the ninth inning to give California a victory that sent the Golden Bears to the NCAA super regionals.  The Bears came back from far behind and won the regional in the most amazing way.  There really are no words to describe the end of this game—so watch it for yourself by viewing the clip below!
Cal will play Dallas Baptist at Santa Clara to continue down the road to Omaha.  The games will start at 5 p.m. Saturday, June 11.  They will meet again for Game 2 at 7 p.m. Sunday and a third game will begin at either 1 or 4 p.m. Monday.
This is so exciting because it has been quite a year for the Golden Bear team.  They have been constantly coming back since their program was cut at the beginning of the fall.  After continued support, passion and loyalty the program was reinstated.  Supporters stuck with the team, and wouldn't take no for an answer—just the like the Bears last night.  The players have endured a difficult year, but have showed tremendous character in their will to never give up hope.