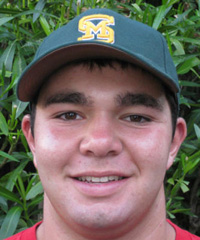 The First Base Foundation congratulates San Marin High School's Ryan Burke on his honors as MCAL player of the year  and the Marin Independent Journal's all-Marin baseball player of the year.
Burke is beginning his second summer on the Bay Area Warrior's 17U team as a first baseman. He is a valuable member and leader of the team; his teammates look up to him as a role model. With the Warriors, Burke has grown immensely both on and off the field, and playing for FBF helped prepare him for this past spring.  His leadership on the 2010 team and his excellent batting and first base defense prepared him to lead San Marin to the NCS Division 3 title game. Throughout the MCAL season, Burke played against his Warriors teammates that are on other high school teams.
The First Base Foundation continues to support Burke as his baseball career expands through high school and beyond. We are eager for Burke's summer with the Warriors after his winning high school season and look forward to his strong first base defense as we progress through the summer.
To read the Marin Independent Journal's article on Ryan Burke, follow this link http://www.marinij.com/prepcentral/ci_18302829