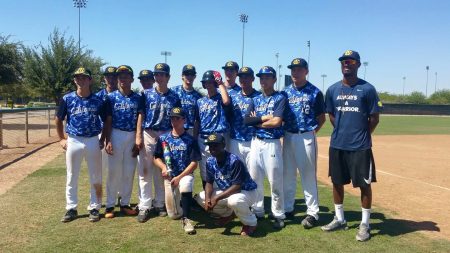 From June 23rd to June 30th, the Gold team traveled to Arizona to play in the USA Baseball National Team Championships. In the first game, our players we were stunned at the high level of competition. We only had one hit that came from the bat of Matthew Marquez, who was to be one of our most consistent hitters throughout the tournament. On the mound for us was Cade King, threw well, but some of errors behind him let the game get out of hand quickly. The Cowboy's mercy ruled us after 5.
The second game we ended up with two hits and we were able to stay in the game for the first few innings. In the fourth inning of the game we started making errors and the game soon got out of hand. We ended up getting mercy ruled again after 5.
The next game we played, we begin to work together as team. We starting hitting and playing defense with precision. Our players stepped up with fight and fortitude that kept us in the game. This earned us a tie and marked our turning point in the tournament. We ended this game in a 7-7 tie. The tie was a good sign for us as we played clean defense and overall smart baseball.
In our fourth game versus MBA Nevada we found ourselves in a hole once again. Inconsistency on the mound led to our worst defeat of the tournament. Momentum was not in our favor and we could not battle back from it. We lost that game 16-6 and the game was cut in the 4th due to mercy rule.
Our fifth game was against CBA Bulldogs and we took an early two run lead. We had Cade King threw well in his second appearance of the tournament, and the Warriors put together good at bats and excellent approaches. This resulted in a relentless offensive attack for the Warriors. It was a dogfight until the very end that finished with a Lucas Herrera walk off single and a win for the Warriors.
  The last game of the tournament was against the Wahoo's, a team from Southern California. Offense started to settle and find some consistency as we continued to hit the ball hard and have good at bats. Jake Himelstein led off the 7th with a single to right. After a fielders choice, Keith Whitaker ended up as the winning run at first. After a couple of clutch hits we ended up with the bases loaded and Cade King up to the plate. Cade came  through with a walk off single to finish the Gold teams time in Arizona with a walk-off win.